Your Virtual Jewish Museum
Our doors may be closed but we are open online!
Due to the Lockdown in England announced on January 4th the museum remains closed to keep in line with Government guidance.
Join us online for
Jewish Museum London Live
! Bringing the collection to you, Jewish Museum London Live enables you to experience the museum straight from home.
Participate in live streams, including talks on significant objects from the collection, a weekly quiz on a Friday, a museum family mornings on a Sunday. Plus we are now running
Virtual Tours
of the museum every other Monday!
We also have thousands of objects in our
online collection
for you to explore from home and hundreds of
educational resources
to enable remote learning.
Jewish Journeys: A Story of Migration
8th February @ 3.30pm - 4.15pm
Discover the History of Jews in Britain from 1066, a history full of journeys and migration. From a medieval mikvah telling the story of the first Jewish community in Britain to photographs belonging to children who escaped Nazi Germany on the Kindertransport, this virtual tour explores many periods of migration.
This tour will be delivered via Zoom and attendees will be emailed the link and details needed to join.
Jewish Pride: In Conversation with Ben Freeman
14th February @ 1.00pm
Join us for this exclusive UK launch, In Conversation, event with Ben Freeman, author of 'Jewish Pride: Re-building a People', and Claudia Mendoza, Joint CEO of the Jewish Leadership Council, where they discuss Ben's widely anticipated book.
In Jewish Pride: Rebuilding a People, Ben, inspired by his experiences with LGBTQ+ pride, aims to educate, inspire and empower Jewish people to reject the shame of antisemitism imposed on Jews by the non-Jewish world as well as non-Jewish perceptions of what it means to be a Jew. Enabling them to begin the process of defining their own identities as proud Jews through Jewish experience, Jewish history and Jewish values.
Ben will be Joined by Claudia Mendoza, Joint CEO of the Jewish Leadership council, to discuss the issues raised in Ben's book and the topic of Jewish identity.

This event is part of a global launch with a series of events across six continents.
Jewish Museum London announces new Mental Health programme for schools linked to Holocaust Education

The Jewish Museum London is pleased to announce that a new programme to support young people with their mental health and wellbeing around grief and loss will be created in the memory of Solly Irving, a Holocaust Survivor who spoke to students at the museum for many years. Solly's legacy programme will enable the museum to use the objects and documents in the collection, donated by Solly during his lifetime, to help young people to understand what it is to live a life with loss; something that Solly often spoke about with the students as he was the sole survivor of his family.
Upcoming Virtual Events and Latest Blogs

Object Talk Live!

Children of the Ghetto


3rd February at 12pm

Join our wonderful volunteer Janet Leifer as she explores a Children of the Ghetto Theatre Programme from our collection. Hear all about the context of this object and background on Israel Zangwill, the playwright.
This talk will be available on our Facebook page.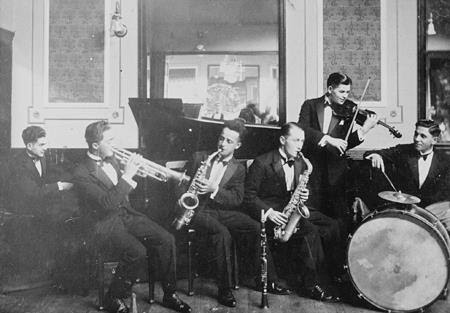 Quiz of the Week: Culture parts 1&2!


5th &12th February @11.00am

Join us for part one and two of our Shabbat Shalom Quiz of the Week dedicated to culture! Brush up on how the Jewish community have shaped British Culture and have some fun!
The quizzes will both be available on our Facebook page