Summer fun for families
This summer, there's loads to do for families with four floors of interactive exhibits, from a tank simulator to drumming and marching experiences.
New this summer - a
construction challenge
with a difference. Use our stack of wooden construction planks to create a structure that won't topple over.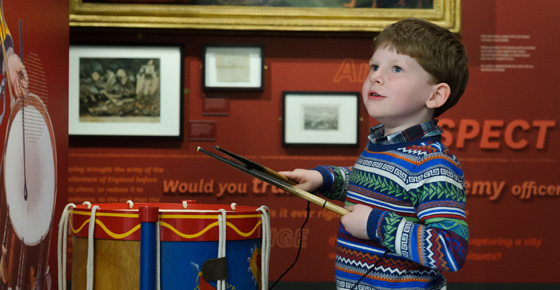 Be part of our NAMily
For just £30 you and your family can get the most out of the National Army Museum whilst helping to safeguard our collection for future generations.
Family members are at the heart of the new museum and in return for their support they enjoy a number of benefits including:
10% discount in the museum shop and café
Field notes activity booklet and badges for kids
Free entry to our paid exhibitions
What's on at the National Army Museum
Unearthing LGBTQ identities

7 July 2017, 11.30am

FREE

Ahead of Pride in London 2017, Rebecca Newell unearths hidden LGBTQ stories in the National Army Museum's collections.

Walking tour: Beyond the battlefield

8 July 2017, 10.15am

£10.00

Walking from Brompton Cemetery to the National Army Museum, discover stories of the soldiers linking our two organisations.

Diversity and the army

12 July 2017, 7.00pm

£5.00

How diverse is the army? Join us for an interactive evening where you can put your own questions to the panel.

Cross-dressing, sexuality and satire

14 July 2017, 11.30am

FREE

Rebecca D'Monté reveals how soldiers used song, slapstick, and satire to entertain themselves during the First World War.

Soldiers out: LGBTQ tour

15 July 2017, 2.30pm

FREE

Kelsey Loveless, from the National Army Museum, explores LGBTQ narratives within the British Army in a tour of the museum's galleries.

War Paint guest tour: Douglas Farthing

19 July 2017, 6.30pm

£12.00

War artist Douglas Farthing will give a guided tour of our War Paint exhibition, in which his work is featured.

Sir Edward Walker and the Battle of Lostwithiel

21 July 2017, 11.30am

FREE

Justin Saddington explores the stories of Sir Edward Walker, Secretary at War to King Charles I during the British Civil Wars.

Hands-on War Paint: Drawing with wire

26 July 2017, 7.00pm

£5.00

Be inspired by our War Paint exhibition by getting creative in this hands-on workshop exploring the use of wire as a drawing medium.

Book Club: Britain's Europe

26 July 2017, 7.00pm

FREE

Join us once a month for an evening of discussion and debate about books relating to the British Army.

Passchendaele: 100 years on

28 July 2017, 11.30am

FREE

Dr Nick Lloyd explores the little-known middle phase of the Battle of Passchendaele, which brought the German Army to the brink of defeat.

Women soldiers tour

1 July 2017, 2.30pm

FREE

Explore 100 years of women in the army. Join us for a free 30-minute tour on the first Saturday of the month at 2.30pm.

War Paint exhibition tour

2 July 2017, 2.30pm

FREE

Join us for a free 30-minute tour of our temporary exhibition War Paint. The tour takes place every other Sunday.
ExpeRience: Midsummer night of science

6 July 2017, 7.00pm

The Royal Institution

ExpeRience the science behind one of Shakespeare's greatest comedies. Join the Royal Institution for an unforgettable evening of hands-on science exploring dreams, senses, love potions and more.

Women at War 100

7 July 2017, 11.30am

National Memorial Arboretum

The Royal British Legion is commemorating the centenary of the Women's Army Auxiliary Corps (WAAC) - the first time women were formally fully enrolled in our Armed Forces - as well as women's Service in the British Armed Forces ever since.