JOHN GERRARD:
WESTERN FLAG
(SPINDLETOP, TEXAS) 2017
This Friday we reveal a large-scale installation in the Edmond J. Safra Fountain Court by the artist John Gerrard. Commissioned and set to be broadcast by Channel 4 as part of their Man Made Planet season, the work stands as a symbol of climate change and modern society's dependence on oil.

Presented on a giant LED screen, Western Flag (Spindletop, Texas) 2017 shows a flag formed of endlessly emitting trails of thick black smoke, flying silently in a virtual recreation of the barren landscape of Spindletop, Texas, the birthplace of the modern oil industry. And to mark World Earth Day on Saturday we're keeping our site open through the night into Sunday morning with the installation reflecting the changing Texan landscape in real-time. #WesternFlag
FRI 21 - THU 27 APR
OPEN DAILY, 07.00 - 23.00 & OVERNIGHT ON SAT 22 APR
THE EDMOND J. SAFRA FOUNTAIN COURT
FREE
SONY WORLD PHOTOGRAPHY AWARD & MARTIN PARR -
2017 EXHIBITION
Featuring rich and fascinating photographic stories from key figures and emerging talent of the photography scene today, this year's tenth anniversary edition includes a special exhibition of rarely seen work by British photographer Martin Parr, recipient of the Outstanding Contribution to Photography Prize. #SWPA
FRI 21 APR - SUN 7 MAY
MON - FRI 10.00 - 21.00 (EXC MON 1 MAY)
SAT & SUN 10.00 - 20.00
WEST & EAST WINGS
£7 - £18
GAME CHANGERS:
ANOTHER WAY TO PLAY
Watch the trailer
A fascinating look at the creative process behind game design that reveals how traditional forms of chess, billiards and mazes continue to influence designers making innovative new games today. Don't miss our pop-up shop to accompany the exhibition, with an exclusive range of specially sourced books, games and prints.
**** Londonist.com
#SHGameChangers
UNTIL 7 MAY
MON, TUE, SAT & SUN 10.00 - 18.00
WED - FRI 11.00 - 20.00
TERRACE ROOMS, SOUTH WING
FREE
SUMMER SERIES
AT SOMERSET HOUSE
WITH AMERICAN EXPRESS®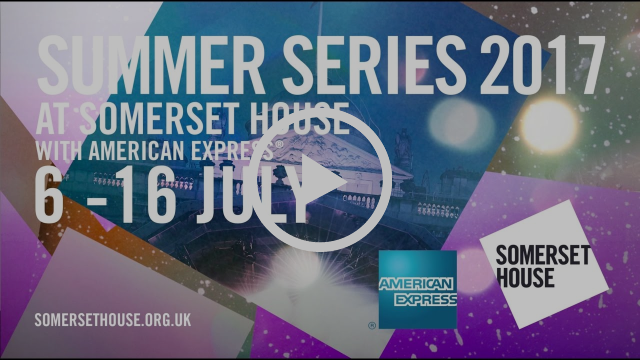 Summer Series at Somerset House
6 - 16 JULY
THE EDMOND J. SAFRA FOUNTAIN COURT
FROM £29.50 - £40 + BOOKING FEES
JENNIFER WALSHE:
SOUND SALON WITH
ROBERT BARRY
The next event in Jennifer Walshe's Sound Salon series is presented by writer and composer Robert Barry who will be discussing his new book The Music of the Future.
Where are today's musical futurists? Rather than being a book of predictions or speculations about how to save the music business or the bleeding edge of technologies, The Music of the Future is more like a history of fascinating failures, mapping 200 years of attempts by composers, performers and critics to imagine a future for music. #SoundSalon
WED 26 APR
18.45 - 20.30
NEW WING
£5
Using the latest in VR technology, Thresholds will restage one of the earliest exhibitions of photography in 1839, providing a way to view images that have since been lost and reimagining the moment when British scientist William Henry Fox Talbot first presented his photographic prints to the public. #Thresholds
OPEN DAILY: SEE WEBSITE FOR DETAILS
RIVER ROOMS, NEW WING
£4.50 / £3.50 CONCESSIONS
READING DRAWING
Discover the intriguing variety of inscriptions that can be found on drawings, from artist signatures to casual notes and records of ownership. Featuring works by Canaletto, Corot, Signac and others.
UNTIL 4 JUN
OPEN DAILY, 10.00 - 18.00
COURTAULD GALLERY, NORTH WING