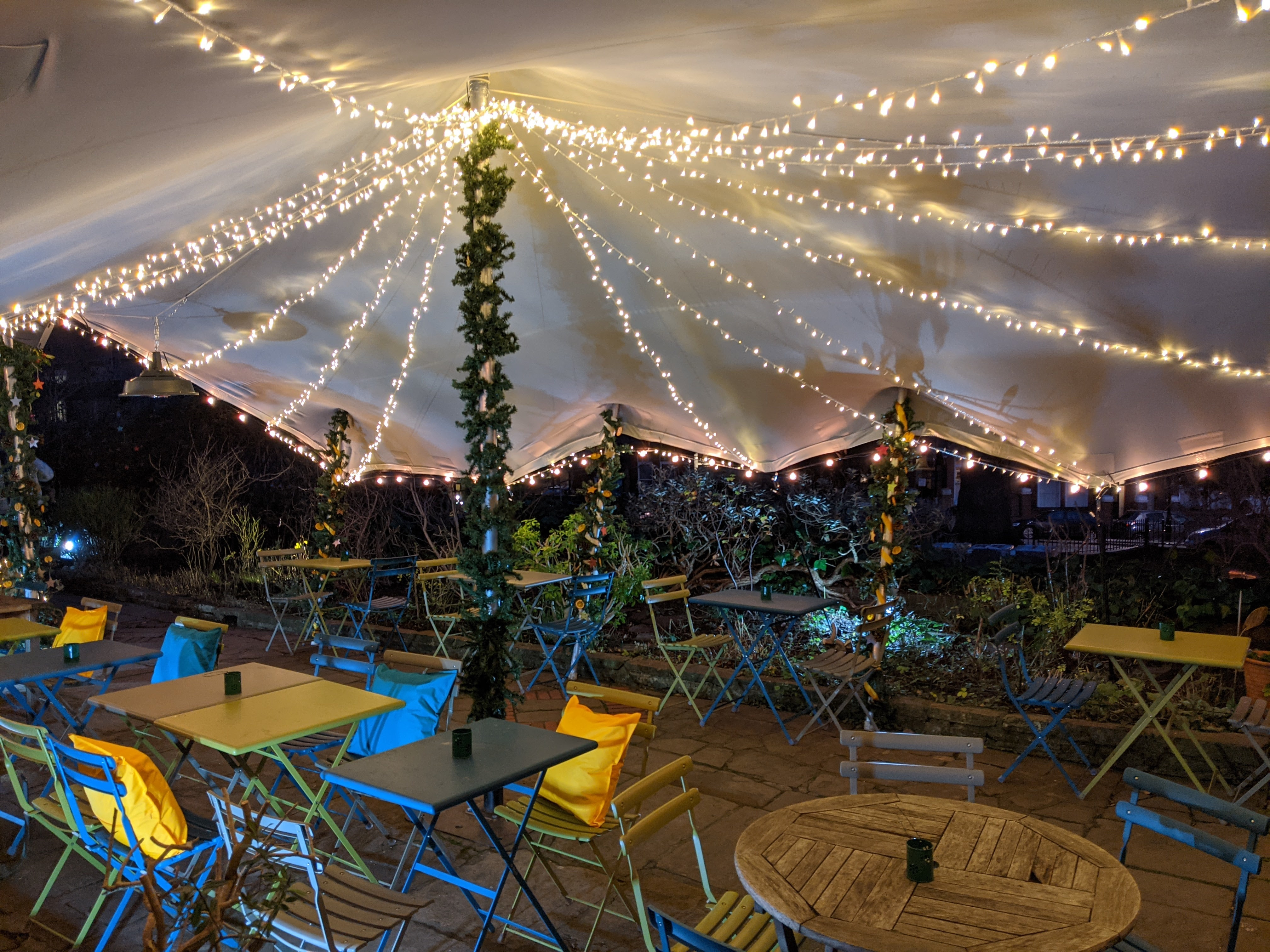 We hope that you are all well during these difficult and turbulent times, what a year it has been. We have some (hopefully) positive news to announce! During this festive month where catching up with family and friends is more important than ever, we are delighted to announce that we have created a solution to keep this as safe as possible for the next few months.
The Burgh House Pavilion opens tomorrow (Thursday 3 December) offering shelter to the cafe terrace through the winter months.
This beautiful space will be here to keep you all dry until Spring 2021 so that you can continue to see friends and family outside over a delicious cream tea, coffee, brunch or lunch!
This was all made possible by the incredibly generous support of Osbornes Law. We have collaborated on previous events with Osbornes Law at Burgh House, and we are really appreciative of their continuous support.
We hope to see you at the Burgh House Pavilion soon!

All the best,
Victor
Deputy Director
Opening Hours:
Wednesday, Thursday & Friday 10am-5pm
Saturday & Sunday 9:30am-5:30pm


Open throughout December Wed-Sun with the exception of 24th & 25th
The Café will be open 10am - 5pm daily between the 26th and 31st December
"Osbornes Law have captured the magic of keeping the customer service levels of a smaller firm whilst having all the expertise and power of the biggest firms." Legal 500 2021
To find out more about us visit www.osborneslaw.com
Wild Lands
Thursday 3 December 2020 - Sunday 10 January 2021
Tess Recordon (Burgh House Artist in Residence, 2016) returns to Burgh House with recent paintings and prints.
From rainbow coloured rocks in the Atacama desert, glaciers in Patagonia to soggy autumn Lake District vistas, it the boundless unexpected drama and beauty of landscape that continues to inspire Recordon's work.
'My work is an exploration of the recollections from these journeys. I work solely from memory (no sketches or snaps) to re-imagine landscapes I've walked in.
My techniques are unusual in that I never use a brush to make marks or lines. Paint is poured from jars and manipulated by tipping the canvas. Layers of colour build up to add depth, movement and intensity. I constantly explore and push for new effects to capture the soul and essence of a place without the constraints of style. Each painting is therefore unique and specific to a place.
Whether the paint is poured, pigment added, sanded off or re-applied, the artistic process is not hidden from the viewer and can be seen under the final surface.
Though tangible, the landscapes leave much to the viewer's imagination.'
Tess Recordon studied Fine Art at the Byam Shaw School of Art (now part of the University of the Arts London). Since graduating in 1991, Tess has worked as a professional painter. Represented by galleries and agents in Cambridge, London and Cornwall. She often works to a large scale for public and designer led commissions in Government offices, Universities and Hospitals and also for the Hotel industry, corporate and private clients.
Tess was the first Artist in Residence at Burgh House in 2016!
www.tessrecordon.com
@tessrecordonartist
Main Image: Dusk over Crummock Water
Image above: Glacier Reflected
Weddings at Burgh House
We are delighted that we are once again able to arrange tours of the house!
Government guidelines still allow for weddings of up to 15, and Burgh House is the perfect intimate venue.

We still have dates available for 2021, for further information and more details please do not hesitate to contact Victor! (victor.hall@burghhouse.org.uk )






Image (right): Steven Carter Hewson
How you can help


Closing the house has had a significant, detrimental financial impact on Burgh House.

As a self-funded charity, we rely on our events to keep the house open.

If you aren't already a member, please consider joining up!
We will be keeping in regular contact during the closure period and every donation no matter how small will make a huge difference to us. Thank you.