Christmas is just around the corner
London moves into Tier 3 today, but both our Zoos will remain open and a safe place to visit over Christmas. Our Zoo tickets for the festive period are very limited, so get your date in now and book your tickets for your festive family day out! We'd hate for you to miss out on a Christmas day out at the Zoo!

There's lots for you to see and do this Christmas at the Zoo. At both our Zoos you can take part in our fun family trails, helping Santa before the big day. We've also got over 20,000 animals for you see, from our baby okapi, Ada, at ZSL London Zoo to our Red panda cub, Nilo, at ZSL Whipsnade Zoo. You might even catch a glimpse of Santa before he heads off on his big adventure.
The indoor exhibits at ZSL London Zoo will be closed as of today, and the catering outlets will be takeaway only until further notice. The toilets and shop will remain open but please don't forget to wear your mask inside. Our Christmas activities are all outdoors and will continue as planned, so you can still enjoy a fun and festive day out at the Zoo.
Our new arrival
We've welcomed a baby giraffe at ZSL Whipsnade Zoo, just in time for Christmas! Keepers named the six-foot-tall giraffe 'Margaret' in honour of the first person to have the COVID19 vaccination last week.
Llamas DON'T help with decorations
Ande the llama has been added to Santa's naughty list - after the youngster was caught tucking into a selection of handcrafted Christmas wreaths that keepers at ZSL London Zoo had put up as part of the Zoos festivities!
Stomping in a winter wonderland
Our herd of elephants have been enjoying a winter wonderland after their keepers installed some giant trees in the Centre for Elephant Care. The keepers even hid some of their favourite treats in presents under the trees.
Say hello to our new tiger
We're delighted to welcome Gaysha the Sumatran tigress to her new home at Tiger Territory. Arriving this morning from Ree Park in Denmark, she'll spend the next few weeks settling in to her new Indonesian-inspired abode - here she is taking her first peek outside, before heading to her cosy indoor dens for a nap. You might be lucky enough to spot Gaysha in her private pond paddock, while Asim will be enjoying exclusive use of the main paddock, and you will probably find him lounging on his favourite heated rocks.
Oh camel ye faithful
You may have seen in the ITV documentary that our camel Genghis was nervous about leaving his paddock, only managing to step out a few feet. We're happy to share that he has now managed to leave, all for his Christmas stocking!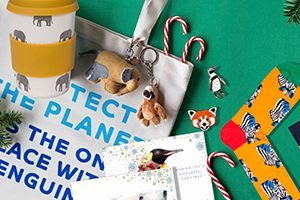 Free delivery on your last minute gifts!
You're running out of time to get all those gifts ticked off your list, but don't fear, you still have a few days to make the post. And to help you finish your Christmas shopping, we're giving you free delivery today (16 December) from our Online Shop. Just enter code FREEDELIVERY at the checkout.
Gift a year of wonder-full days out
Treat your loved ones to a whole year of wonder-full days out at our Zoos, and support ZSL to create a world where wildlife thrives at the same time. If you purchase before 4 January 2021 you'll get 20% off gift membership! Your gift now has twice the impact, as its value will be matched by a donor until 4 Jan!