It might be a little early for some but we've decided to celebrate all things Christmas this week!
We've got a lovely Family Challenge inspired by a beautiful, seasonal piece from the collection by artist Kate Greenaway.
We also have a fascinating object from the collection for our December object of the month, an article about the history of the Christmas card (written by our fantastic curatorial intern Ffion) and a guide to making Christmas cards from recycled ribbon.
We also have another exciting online celebration for families in December. On Saturday 19 December we will be running an online Christmas festival with crafts, singing and recipes (details below).

The house is now open Wednesday, Thursday, Friday & Sunday, 10am-4pm (last entry at 3pm) until Sunday 20 December for Christmas shopping. Members can now claim 20% off all products until the end of January, find out more below!
The Burgh House Pavilion Cafe
Wednesday, Thursday & Friday 10am-5pm
Saturday & Sunday 9:30am-5:30pm

Open throughout December Wed-Sun with the exception of 24th & 25th
The Café will be open 10am - 5pm daily between the 26th and 31st December
"Osbornes Law have captured the magic of keeping the customer service levels of a smaller firm whilst having all the expertise and power of the biggest firms." Legal 500 2021
To find out more about us visit www.osborneslaw.com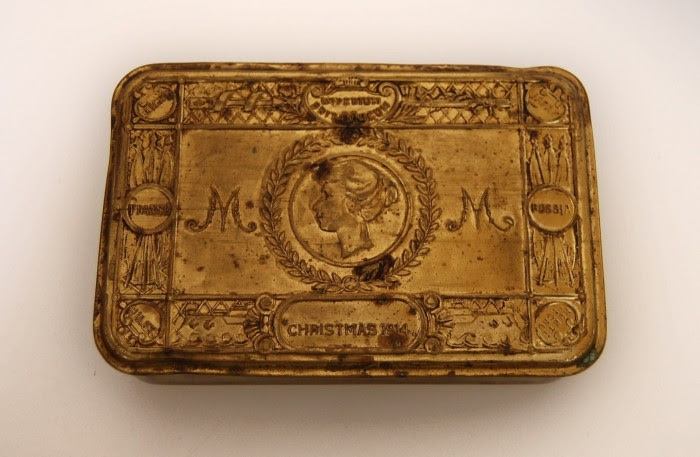 Object of the Month:
Princess Mary's Christmas Gift to Soldiers (1914)
Christmas is a time for compassion, generosity and for helping those less fortunate than ourselves. Our Object of the Month this December is Princess Mary's Gift Fund Box, in celebration of the power of charitable giving.

On 14th October 1914, the seventeen-year-old Princess Mary, the third child and only daughter of King George V and Queen Mary, launched the Christmas Gift Fund, with the aim of sending a personal Christmas gift to each soldier and sailor fighting for Britain during the First World War. As she explained in a letter released by Buckingham Palace, the gifts would be "something that would be useful and of permanent value and the making of which may be the means of providing employment in trades adversely affected by the war. Could there be anything more likely to hearten them in their struggle than a present received straight from home on Christmas Day?". Fundraising proved a great success and approximately £162,591 was raised, most of which came from small individual donations from members of the public.

The boxes, which were made of silver for officers and brass for all others, such as this example, were designed by Messrs Adshead and Ramsey, and were embossed with a profile portrait of Princess Mary. They each contained one ounce of pipe tobacco, twenty cigarettes, a pipe and a tinder lighter, as well as a Christmas card from the King and Queen and a photograph of the Princess. Alternative gifts were sent to non-smokers and nurses, and some contained sweets, especially for Indian troops. Distribution was not completed until 1920 by which time approximately 2.5 million had been delivered.
A Princess Mary Gift Fund Box was a treasured possession and while many troops sent them home to their wives and families, others continued to use them even after their original contents had run out. In distributing these gifts, Princess Mary brought joy and hope to many during a turbulent time.


Image: Princess Mary's Christmas Gift Fund Box
A Nest of Gentle Artists: Randolph Schwabe and His Contemporaries
Until 7 March 2021
We are delighted to reopen our current exhibition before we close for Christmas. We are not operating on a ticketed system at the moment but we will be keeping an eye on and limiting visitor numbers to allow for social distancing in the gallery.
The House and exhibition are open:
Sunday 13 December, 10am-4pm
Wednesday 16 December, 10am-4pm
Thursday 17 December, 10am-4pm
Friday 18 December, 10am-4pm
Sunday 20 December, 10am-3pm
This exhibition is kindly sponsored by
Osbornes Law
Family Challenge
Our Family Challenge this month is inspired by a wintery tile in the collection, the scene from which was designed by Victorian children's illustrator Kate Greenaway.
Find out how to make your own wintery tile using items from around the house.
You can find all of our Family Challenges from 2020 on our website, follow the link below!
Christmas Online
At this time of year Christmas celebrations would usually be in full swing, with our carol concert, Christmas Fair and children's workshops. So we thought we would take the festivities online this year!
Join us next Saturday (19 December) 11am-1pm on our Facebook and Twitter for two hours of celebrations featuring carols, crafts, recipes and a delve into our collection.
We hope you join us!
Don't worry, if you're missing our mulled wine and homemade mince pies you can still enjoy them in the Burgh House Pavilion under the Christmas lights!