What's On in May

Welcome to the Burgh House & Hampstead museum e-news, with a snap-shot of some of the exciting events coming up in May.

Burgh House is an entirely independent and self-funded charity, we receive no funding, so your support, whether coming to our events, giving a donation, booking a private event or joining as a Friend of Burgh House, really does keep us open to the public for free. Speaking of which, if you haven't renewed you Friends membership for 2018 yet, it's never too late, give us a call on 020 7431 0144 or pop into the office when you are next in the House.

Make a donation




Cover image by Ed Sumner.
Jewellery, Coins and Medals Valuation
Tuesday 1 May
12pm-4pm
Mayfair specialist auctioneers Dix Noonan Webb will be hosting their next Jewellery, Coins and Medals Valuation Day at Burgh House, offering confidential auction valuations, free of charge and without obligation.
To book an appointment or for any enquiries, please call Frances Noble on 020 7016 1700.
Hampstead Childhoods
Sunday 13 May
11am-1pm
Discover the interesting stories of children that have lived in Hampstead throughout history, and share your own memories with us! Families will have the chance to have a closer look at objects from the collection.
Suitable for children 5 and over.
FREE
An Evening of French and Spanish Art Song
Sunday 13 May
6.30pm
Performed by mezzo sopranos, Caroline Carragher and Daniela Bailey, accompanied by pianist Geoffrey Burford.
The concert will include works by Faure, Hahn, Poulenc, Debussy, Granados, Obradors, Mompou, Guridi, Guastavino, and Turina.
Tickets £12.00 to include a glass of wine
Gaynor Perry: The Spy & Other Stories
Wed 16 May - Sun 27 May
Featuring black and white photography, Perry portrays aspects of her subconscious alliance with the natural world to reveal the underlying narratives she feels so strongly to be true.
www.gaynorperry.com
Buttery Cafe open
Wed - Fri
10am - 5pm
Sat - Sun
9.30am - 5.30pm
For Reservations call 020 7794 3943
Marmara Piano Trio and Friends
Sunday 20 May
2pm
Marmara Piano trio returns for their fourth season with a programme that includes Beethoven's glorious Archduke Trio and Robert Schumann's greatest chamber music achievement, Piano Quintet Op. 44 in E-Flat Major.
Tickets £12 (Free u12) available on the door. For further information, contact Mine Doğantan-Dack
here
Modern Calligraphy for Beginners
Friday 25 May
2pm
Join Katie for an enjoyable afternoon learning modern calligraphy. Whether you simply want to try something new and have never used a pen holder and ink before, or have always had a love for calligraphy, you've come to the right place.
More information & tickets
here
.
Hampstead Piano Academy Concert
Sunday 27 May
2pm
Students from the Hampstead Piano Academy will showcase the results of hard work, dedicated practice and great fun in their spring concert.
Free, booking is required.
Tickets available
here
.
Wine and Cheese Tasting
Thursday 31 May
7pm
After four sold-out events, our next wine and cheese soiree with Jeroboams takes us on an exciting grapevine journey of discovery. Guided by a Jeraboams sommelier, this tasting session will focus on the rare and lesser known grapes responsible for creating fantastic wines from around Italy, accompanied with fine cheese and charcuterie. Guaranteed to impress at your next dinner party!
Tickets £17.50 (limited places), available
here
.
The Making of an Englishman:
Fred Uhlman, a Retrospective

Wed 24 January - Sun 27 May
The Making of an Englishman is the first UK retrospective of Uhlman's work in 50 years and the first exhibition of the artist's work in Hampstead, where he lived for many years and was so influential in establishing a refugee community. The exhibition brings together paintings and drawings dating from 1928 to 1971, most notably a selection of early Mediterranean scenes, a number of drawings executed whilst in internment on the Isle of Man during the Second World War, loaned from the Fitzwilliam Museum, Cambridge, and the Welsh landscapes for which he became well known. The exhibition will also include previously unseen archival material and objects of his personal collection including a number of items from Uhlman's 72-piece collection of African sculpture, the majority of which is now on permanent display at the Hatton Gallery, Newcastle, as well as representations of the artist by celebrated Dadaist Kurt Schwitters, fellow Hampstead resident Milein Cosman, Polish-Jewish painter and printmaker Jankel Adler and sculptress of luminaries Karin Jonzen.
Ed Sumner: London Landscapes
Wed 2 May - Sun 13 May
A selection of oil paintings and other art, based predominantly on Hampstead landscapes and surrounding areas.
www.edsumner.co.uk
Ask Me to Dance: Book Launch
Thursday 10 May
7pm
Rose Gregory has suffered a devastating blow, a double bereavement from which months later she is still reeling. Sanctuary and rest are prescribed by her doctor. But when she arrives at her refuge, she finds it is not the haven promised. Sylvia Colley's extraordinary understanding of a woman's struggle to deal with grief is described without sentimentality. A beautifully written and moving story.
FREE
Hoffmeister Ensemble
Sunday 13 May
2.30pm
The Hoffmeister Ensemble (violin, viola, cello, piano) returns to Burgh House for a recital of two string trios by Schubert, and the wonderful G minor piano quartet by Mozart.
Tickets £10 available on the door or call 01923 256 066
Walking in the Steps of Fred Uhlman
Sunday 20 May
1pm
Marilyn Greene will be leading a free walk inspired by artist Fred Uhlman, retracing his artistic and personal experiences of Hampstead.
Meet at Burgh House at 1pm. Includes before-hours view of the current exhibition,
The Making of an Englishman: Fred Uhlman, A Restrospective.
More information available
here
Tony Grenville: Fred Uhlman's Journey from Stuttgart to Hampstead
Thursday 24 May
7pm
As part of our current exhibition, The Making of an Englishman, academic and author Dr. Anthony Grenville looks at the life of Fred Uhlman, who was born in Stuttgart in 1901, came to Britain in 1936 as a racial and political political refugee from Nazism, and made a career first as an artist, then as a writer, settling in Downshire Hill, Hampstead, with his wife Diana, the daughter of a British aristocrat.
FREE
Donkeys on Hampstead Heath
Sunday 27 May
12pm-2pm
Our cartoon donkey has lost its colour! Come and help us bring it back to life in this drop-in session for families.
Suitable for all ages.
FREE
The Heart is a Bloom
Wed 30 May - Sun 3 June
An exhibition of paintings and drawings by Ray Walker and Camila Walker, father and daughter. Love of the natural world and the joy of colour are celebrated in both artists' work. Landscapes, faces, flowers and birds populate the images, echoing feelings and ideas that arise from the imagination.
African Figures
Friday 1 June
11am-12.30pm
Inspired by Fred Uhlman's collection of African artefacts, join us for a clay modelling workshop, exploring African patterns and figures.
Suitable for children 5 and over.
£5 per child available
here
.
A Totally Preposterous Parson: Evelyn Waugh and Basil Bourchier

Wed 14 March - Sun 24 June
Evelyn Waugh, the distinguished 20th century writer, grew up in North End Road, on the boundary between Golders Green and Hampstead. With his father, the publisher Arthur Waugh, he attended the newly opened church of St Jude-on-the-Hill, Hampstead Garden Suburb, and came under the influence of its flamboyant and outspoken young vicar, Basil Bourchier. In later life, and after he had become a Roman Catholic, Waugh ridiculed Bourchier, calling him a "totally preposterous parson". This small landing exhibition curated by Reverend Alan Walker, seeks to reconsider their relationship and rediscover a local clergyman who performed on the national stage.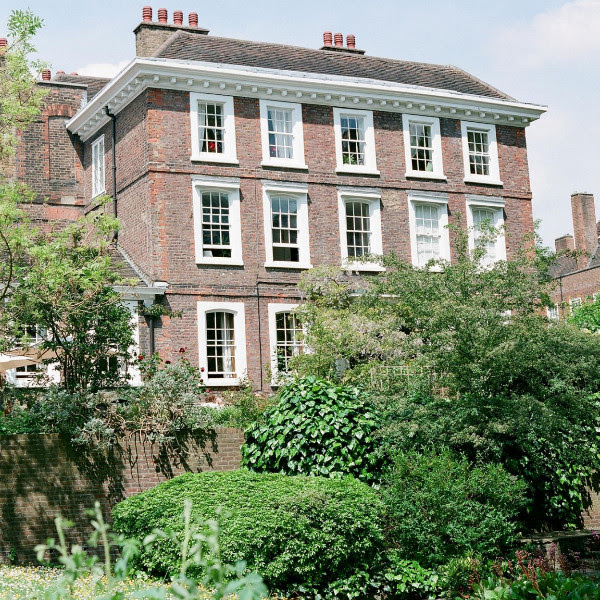 Burgh House & Hampstead Museum open
Wed - Fri & Sun
12noon - 5pm