The Prince of Wales has said he is "so pleased" with the birth of the Duke and Duchess of Cambridge's third child.
Gun salutes across London are set to mark the arrival of the couple's second son, who is yet to be named.
The new prince, who is fifth in line to the throne,
was born on Monday
at the Lindo Wing of St Mary's Hospital, London weighing 8lb 7oz.
Prince Charles also joked about having another grandchild and that he did not know how he would "keep up with them".
The name of the new prince has not yet been announced but the family have returned home to Kensington Palace.
His arrival will be celebrated with traditional gun salutes from the Tower of London and Hyde Park at 14:00 BST, which are used to mark every birth of a prince or princess.
In a statement released by Clarence House, Prince Charles said: "We are both [the Duchess of Cornwall and I] so pleased at the news.
"It is a great joy to have another grandchild, the only trouble is I don't know how I am going to keep up with them."
The palace said a name would be revealed in due course but for the time being a formal notice of the birth of the child has been placed on the forecourt of Buckingham Palace.
Arthur, James, Philip and Albert are among the bookies' favourites.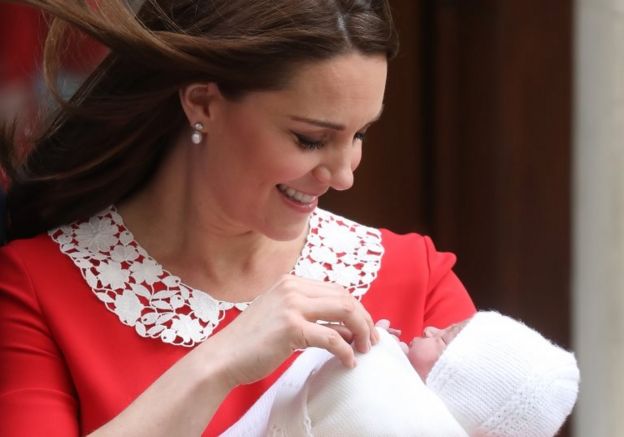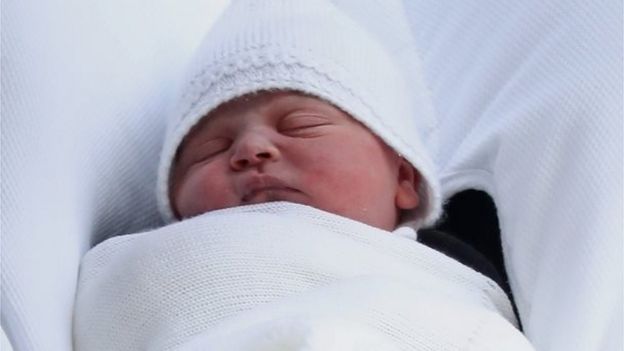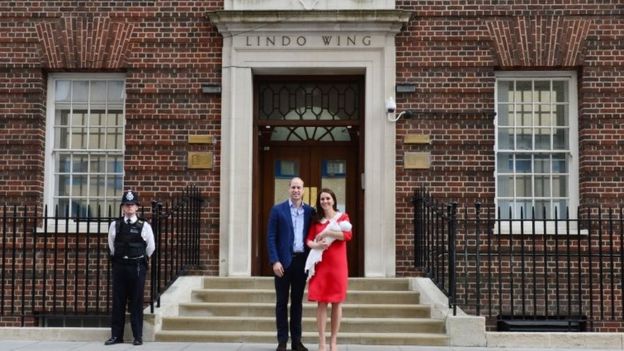 The prince's siblings, Prince George and Princess Charlotte, visited their younger brother in hospital on Monday.
Catherine was admitted to the Lindo Wing at around 06:00 BST on Monday with the birth being announced shortly after 13:00 BST.
Crowds had gathered outside the hospital in Paddington, with some well-wishers having camped out for more than two weeks.
As Prince William left with his new son, he said the couple were very happy and joked he would have "thrice the worry now".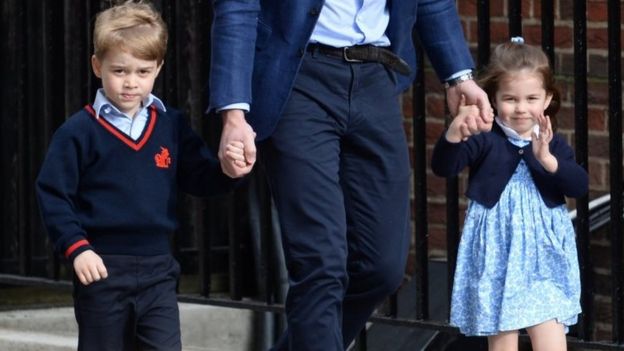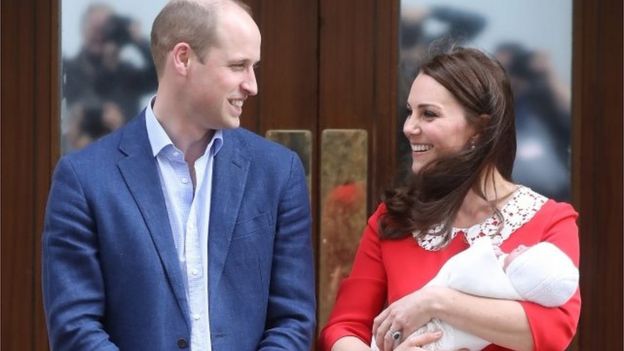 In 2013, the law changed which allows Princess Charlotte to keep her place as fourth in line to the throne.
Before, younger royal males would have overtaken their older sisters.

Will the new prince be king?
To become King or Queen as the third-born royal child is rare - and has yet to happen within the current House of Windsor.
But the third child of George III and Queen Charlotte, William IV, took on the task and ruled from 1830 to 1837.
The Hanoverian king acceded to the throne aged 64 when his older brother, George IV, died without an heir.
He became next in line when he was 62 and his other older brother, Frederick, Duke of York, died.