VISIT HMS BELFAST


AND GET 50% OFF TICKETS
Half price tickets to London's Warship Experience!
Celebrate the new World of Warship's Command Center on board HMS Belfast with 50% off a limited number of tickets on Sunday 26 September.

Sponsored by World of Warships, climb on board this iconic Second World War ship for half the price, explore all nine decks and visit the brand-new World of Warships fully equipped interactive gaming room.

Tickets must be booked online in advance. Discounted tickets are limited, only available for visiting on Sunday 26 September and are allocated on a first come, first serve basis.

Click here to book your tickets for Sunday 26 September.
| | |
| --- | --- |
| © IWM | |

WORLD OF WARSHIPS:
COMMAND CENTRE
Take control of HMS Belfast in the new fully equipped interactive gaming room on board.

Using a specially prepared build of the online naval action video game World of Warships, you can take the virtual helm of the very Royal Navy cruiser you are standing in and lead it into battle.
WHAT ELSE IS THERE TO SEE ON BOARD?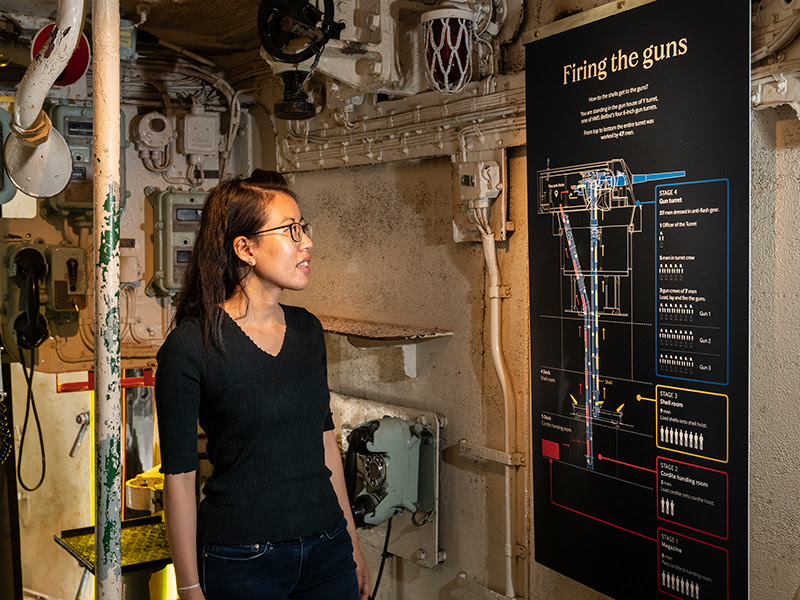 D-DAY EXPERIENCE
Enter one of the 6-inch gun turrets for an immersive sound experience, transporting you to 6 June 1944, as HMS Belfast's guns opened fire on the beaches of Normandy.
STEER THE SHIP
Try our new interactive experience and see if you can follow the Captain's orders to steer
HMS Belfast to her destination in time for D-Day.
FIGHTING FIT
Discover the story of Korean War Surgeon Lieutenant Tony Rowan. Hear his own words, and find out why casualties were often brought specifically on board HMS Belfast to be treated.
FEEDING THE CREW
Find out what it took to feed nearly 1,000 sailors. Play our interactive games to see if you can handle the pressure in the kitchen. Peel the potatoes, fry the sausages, make the soups and mix the custard.
| | |
| --- | --- |
| © IWM | |

PLAY WORLD OF WARSHIPS AT HOME
Continue the fun at home!

Play World of Warships for free on PC using the code HMSBELFAST to gain access to exclusive content.

Click to start playing.