It's Great Big Green Week!
This week we're joining the nationwide celebration of Great Big Green Week, the UK's largest ever climate and nature event.

The climate and biodiversity crises we face are vast but inspiring stories of conservation collaboration from around the world show that there is hope, and together we can all make a difference. At ZSL, our scientists are working on solutions that adapt to and mitigate the impacts of climate change, such as habitat protection and restoration, providing multiple benefits to wildlife and people.

Read on to hear about some of these projects, find out how our Zoos are making a difference and the every day steps you can take to support our planet.
Online event this Friday
Join ZSL conservationists for a free online panel event on nature-based solutions to the climate crisis. Hear first-hand how our teams are tackling the climate change in the UK, Mongolia and the Philippines, working with communities to secure a biodiverse and sustainable future for all.
The future of corals
Coral reefs provide vital habitat for more than a million aquatic species, but these ecosystems are facing enormous pressure from climate change, pollution and overfishing. Read our new blog to discover how our marine scientists are protecting these complex ecosystems.
Room to roam
Find out how ZSL tackled tiger habitat loss in South Sumatra by working with the Indonesian government, industries and local communities to reconnect precious forests and peatlands, and how these habitats are helping to mitigate climate change.
Whipsnade's solar lion
Sustainability is integral to everything we do at ZSL, so we are working to ensure that carbon emissions from our Zoos are as low as they can be. To radically reduce our carbon footprint at Whipsnade Zoo, we're planning a 'solar farm' in the shape of the famous Whipsnade chalk lion.
Forests on the front line
Mangrove trees are the unsung heroes of the fight against climate change. As coastal defences and carbon sinks, they're invaluable in helping to mitigate global warming. ZSL has long worked in the Philippines to protect and restore their extraordinary ecosystems.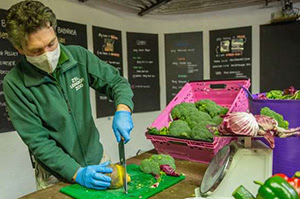 Everyday ways to help
To celebrate Great Big Green Week we're sharing seven surprising ways in which ZSL London Zoo is working to cut our carbon emissions by half by 2030 - and seven ways in which you can reduce your carbon emissions too.
Switch to eco-friendly
Do you have a birthday coming up? Take a look at the range of eco-friendly gifts, household items and books in our online shop. Every purchase helps us continue our global conservation projects, as well as our work at our two Zoos
With your help, nature can bounce back.
As a charity, we need help to do more research and conservation to support the recovery of wildlife.
We're ZSL, an international conservation charity working to create a world where wildlife thrives.

Join us at zsl.org