A super September at the Zoos
It's been another jam-packed month at the Zoos! Baby rhino Nandi made a real crash with her first venture out into our vast paddock. Meanwhile, over at London Zoo, our gargantuan Galapagos girls went on a stroll of their own as they moseyed along over to their brand new home on the other side of the Zoo.

And while we count down to Santa's Christmas visit we've had another magical new arrival - see our exclusive footage of our (yes, still spiney!) baby porcupine, who as yet, only emerges at night for keepers to sneak a glimpse!
It's Great Big Green Week
Take a look at our blog to find out what we're doing at London Zoo to reduce our carbon emissions, and see seven things you can do at home to help reduce your carbon footprint too!
Nandi's first steps
Last month we introduced you to our new baby rhino, Nandi. Didn't you think she was adorable? She's doing really well and has since taken her first steps outside with mum Tuli. Take a look!
A stroll across the Zoo
London Zoos new Giants of the Galapagos exhibit opens its doors on 9 October. Our trio of Galapagos tortoises have recently embarked on an epic trek across the Zoo to get to their new home. Take a look at the video to see Dolly, Polly and Priscilla.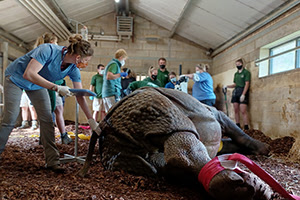 Eye surgery for Hugo
Ever wondered how our vets perform an operation on a rhino? This World Rhino Day, vets at Whipsnade Zoo have revealed behind-the-scenes footage of sight-saving eye surgery being performed on our greater one-horned rhinoceros, Hugo. Read more about Hugo's surgery, and watch the video to see what happened.
Our new arrival!
Keepers at London Zoo have shared the very first photos of a baby porcupine - known as a porcupette - born at the Zoo last month. The adorable baby has spent the past six weeks settling into the family's cosy indoor dens, only emerging at night, accompanied by its protective parents, Hettie and Henning.
Pre-register to Meet Santa
It's that time of year again, Santa is getting ready to visit London Zoo. Register your interest below to be in with a chance of securing tickets when they go on sale next week. You'll only receive the ticket link if you pre-register your interest, so don't miss out! Pre-register by11pm on Wednesday 29 September!
Eco friendly range
To celebrate Great Big Green Week, we've put together some of our favourite eco friendly products. From books about how to reduce your carbon footprint and reduce waste to shampoo bars and reusable cups, you can help save the planet, while shopping for those perfect gifts!
Say hello to Hiro
We'd like you to meet our adorable new female zebra foal, born to mum, Henna at Whipsnade Zoo recently. The foal was named by six-year-old Jake, who was born with an extremely rare heart condition, and has a very special zebra connection. Thank you Jake for choosing such a perfect name.
We're ZSL, an international conservation charity working to create a world where wildlife thrives.

Join us at zsl.org